PERTHSHIRE PUPIL WINS NATIONAL COMPTITION FOR THEIR CREATIVE WARNINGS OVER TOXIC GAS
Published date : 23 January, 2013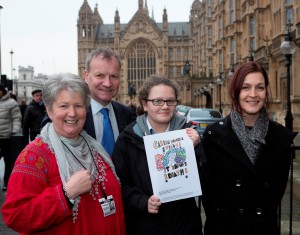 A creative pupil from Perthshire has been crowned the winner of a national competition, after designing a striking poster warning of the dangers of carbon monoxide (CO) poisoning.
Erin McLaren, age 12, from Coupar Angus Primary School, used colourful warnings and an image of a skull to warn about the deadly effects of carbon monoxide - an odourless, colourless gas which kills around 50 people each year and injures over 200 more.
The national schools' poster competition is run by independent registered charity, CO-Gas Safety, which works hard to prevent deaths and injury caused by CO poisoning and other gas dangers, while supporting victims and their families. Erin's design has been named the overall winner for Scotland.
Erin said: "We talked about carbon monoxide in our class and then I tried to design a poster which had all the important information on it. I was really shocked when I found out I had won!"
Margaret Cameron, head teacher at Coupar Angus Primary School, said: "We're so proud of Erin, she tried really hard and put a lot of effort into finding the best way to get the message across."
Mr Pete Wishart MP, Member of Parliament for Perth & North Perthshire, welcomed the Coupar Angus group to the Houses of Parliament yesterday (Monday) and congratulated Erin saying:
"Congratulations to Erin for her great achievement in being named the overall winner for the whole of Scotland in this competition. Her creativity and understanding of the severity of the issues involved are very evident in her design.
"This is a very important message and I would urge everyone to make themselves aware of these 5 simple steps for reducing the risk of Carbon Monoxide poisoning. Following these straightforward precautions really can save lives."
Erin was presented with her prize at a special ceremony held at the House of Lords in London, where the charity revealed 17 years of its own data on the devastating effect of deadly carbon monoxide. There have been a total of 643 deaths and 4428 near misses – over 379 of which were found unconscious - caused by unintentional carbon monoxide poisoning (CO).
Stephanie Trotter OBE, President of CO-Gas Safety, said: "Choosing our winners was a very hard decision as the standard of entries was so high, but Erin's design really stood out.
"What we frequently hear from people who have been affected by CO poisoning is that they didn't even know what CO was. Being a deadly gas which cannot be sensed by smell, taste, touch or hearing, and less than 2% can kill in just one to three minutes, it is vital that people are aware of the dangers and know the steps to take to reduce their risk of being poisoned."
5 Steps for Reducing the Risk:
Have all appliances powered by carbon fuel that burns, such as boilers, ovens, gas fires and oil burners, properly installed and regularly maintained according to manufacturer's instructions by qualified people.
Always check the person who turns up to check and fix your appliance is qualified to work on that particular appliance. For gas they should be Gas Safe Registered and check with the Gas Safe Register (http://www.gassaferegister.co.uk/)
Have chimneys and flues regularly swept and checked.
Ensure there is adequate ventilation and don't block vents.
As an extra safeguard, buy a CO alarm that works to standard EN 50291.
For more details about the schools' poster competition or the CO-Gas Safety charity, visit www.co-gassafety.co.uk
---
Back to All Press Releases