WISHART BACKS CAMPAIGN TO OPPOSE VISA COSTS - CALLS FOR PERTHSHIRE PEOPLE POWER TO COME TO AID OF CHERNOBYL KIDS
Published date : 31 January, 2013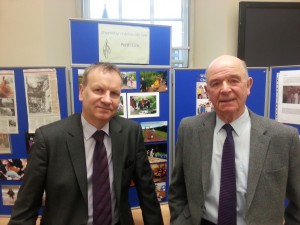 Speaking at a news conference in Perth this morning (Thursday), the Scottish National Party's Mr Pete Wishart MP, Member of Parliament for Perth & North Perthshire, spoke of the decision by the Foreign and Commonwealth Office to remove the free visa concession which has been in place up until now for children travelling to the UK for rest and recuperation from areas in the Ukraine and Belarus still suffering the effects of the nuclear accident at Chernobyl.
Mr Wishart said:
"I doubt that there are many people in Perthshire who are unaware of the great work done by the Perth Link of the Chernobyl Children's Lifeline each year, bringing kids from those parts of Ukraine and Belarus still suffering the effects of the nuclear accident at Chernoby for a break in the clean air of Perthshire, staying with local families.
"The smiling faces of the children who come here is a testament to the success of the scheme.
"Folk in Perthshire work hard all year round raising funds to make this possible but unfortunately it is now being undermined by the Foreign & Commonwealth Office's determination to remove a concession which meant that they did not have to pay for the visas for those coming over.
"We know that times are hard economically but I think there are plenty other places that they could trim their budgets without affecting good work like this and while £1020 a year is a lot of money to the Chernobyl Children's Lifeline – it could pay for an extra 2 needy children to get a healthy holiday – it is but a drop in the ocean for the FCO.
"For some time now, I and other Members of Parliament representing constituencies who are home to Link groups have been trying to persuade the FCO to change their mind but they are not for budging.
"We need a bit of people power and I am calling on the people of Perthshire to help stand up for the kids of Chernobyl that they have helped so often in the past.
"There is an online petition which people can sign and the more signatures we can gather, the better. The FCO want to quietly pass this cost on to fundraisers and volunteers. Well, we want the people of Perthshire to make a noise and say loud and clear that it unacceptable."
Mr Wishart was joined by Mr David Dawson, Chair of the Perth Link of the Chernobyl Children's Lifeline. Mr Dawson continued:
"Every year we bring 12 children with their Leader to Perthshire for a much needed break in a clean environment.
"These children live – right now - in an environment contaminated by residual caesium 137, iodine 131 and strontium 90 at levels that would simply not be allowed in the West and which can have a permanent effect on their health.
"They come to us for a month-long boost to their immune systems in the hope that they will be able to live a normal adult life.
"The cost of bringing a group over is approximately £6500 and if the FCO insist that we have to pay £85 per visa it will add more than £1000 to the cost.
"All our money is raised from the generosity of people in Perthshire and it just seems grossly unfair to add 15% to costs and increase the burden on those who do the fundraising.
"To look at it another way, there are 11 active links across Scotland which means a total extra cost of in excess of £12,000 which is nearly enough to fund 2 more groups of children!
"Many folk in Perthshire help us every year by raising money and volunteering as host families, and now we really need everybody to help us show the FCO that this is unacceptable by signing the petition."
Mr Wishart concluded:
"As we are still in 'Burns' season' a word from the Bard might be appropriate:
That Man to Man, the world o'er
Shall brothers be for a' that.
"Let's persuade the FCO of the need to demonstrate a bit of that spirit of international brotherhood.
"Now's the day and now's the hour, sign the petition and show them people power."
_________________________
Audio clips from the news conference are also available at http://audioboo.fm/rachelfellows
---
Back to All Press Releases