WISHART BACKS FAIR FUEL CAMPAIGN
Published date : 22 October, 2014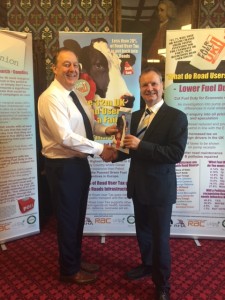 The Scottish National Party's Mr Pete Wishart MP, Member of Parliament for Perth & North Perthshire, attended the launch in the House of Commons this morning (Wednesday) of FairFuelUK's General Election Manifesto.
Speaking after the meeting Mr Wishart said:
"Since the beginning of 2011, the FairFuelUK Campaign has been credited with stopping all fuel duty increases that were planned in this Parliament and I have been delighted to campaign alongside them in achieving that.
"May 2014 marked a historic victory for the FairFuelUK Campaign and the Road Haulage Association. Finally, the Government began to admit what those of us who agree with FairFuelUK have been telling them for the last 3 years - low fuel duty helps the wider economy, particularly in places like Perthshire.
"London-based politicians seem to have had great difficulty in understanding the impact that rising fuel prices have on ordinary folk. As well as the increasing cost of running a family car, significantly more essential in rural areas, the effects of sky high fuel taxes also impact on prices in the stores with costs rising to deliver food and other products to the shops.
"It is ridiculous that an oil rich nation like Scotland should be reaping the benefits from our offshore resources – not watching as North Sea revenues flow into a black hole in Treasury coffers while the Scottish budget is slashed.
"As we approach a General Election it is important that all politicians listen to the strong case that campaigners like the FairFuelUK Campaign are making."
---
Back to All Press Releases