WISHART BACKS TESCO'S COLLECTION DRIVE FOR LOCAL FOODBANKS
Published date : 28 November, 2014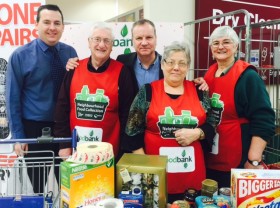 The Scottish National Party's Mr Pete Wishart MP, Member of Parliament for Perth & North Perthshire, has given his support to Tesco's fifth Neighbourhood Food Collection, in conjunction with the Trussell Trust and FareShare which is taking place this week in stores around the country. Speaking after a visit to the TescoExtra store on Crieff Road, Perth this morning, Mr Wishart said:
"I think it is a crying shame that there is a need for food banks in this country which is so rich in natural resources and the need that exists is a massive reminder of the enormous gulf that exists between the wealthiest and the poorest of our people.
"So, while I abhor the need for them, I welcome their existence and I pay enormous tribute to those volunteers who give of their own time and effort to make sure that the hungry are fed.
"Thanks, too, are due to those who contribute the much needed groceries and help the Foodbanks meet the need that they are encountering. It is good to see supermarkets getting behind the drive for Foodbank donations and I am pleased to be able to be here today to support Tesco's efforts in that regard.
"The last time Tesco ran a collection week like this, Perth shoppers gave the second largest donation in the whole of the UK. That level of generosity brings real credit to the city and I want to thank every single person who took part. I hope that this week's donations will be of a similar level.
"I would urge everyone to donate to their local foodbank, not just this week but throughout the year. Sample shopping lists are available online which show the sort of goods that are generally needed and I would, additionally, ask people to give some thought to those with particular dietary needs such as folk with coeliac disease and to put in, for example, some gluten-free foods.
"People could also think about adding in some of the non-food items that might not appear on these lists but are just as essential, such as sanitary products."
---
Back to All Press Releases