PETE WISHART & NICOLA MARTIN BACK SMALL BUSINESS SATURDAY
Published date : 08 December, 2014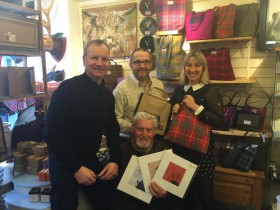 Mr Pete Wishart MP, Member of Parliament for Perth & North Perthshire helped to mark the Federation of Small Business's Small Business Saturday by visiting a number of local businesses in his constituency at the weekend.
Mr Wishart was accompanied by Nicola Martin, Chair of Perthshire Businesswomen's Network and the inspiration behind the #PerthLoveFest campaign to encourage the people of Perth to rekindle their passion for all of our wonderful independent retailers, restaurants, pubs, producers and events.
Giving his support to Small Business Saturday, Mr Wishart said:
"Small businesses, like those I visited on Small Business Saturday are the heartblood of the local economy and I am delighted to be able to lend my support to this excellent campaign to put the spotlight on the important role that they play and the need for us all to support them.
"Money spent in small local businesses stays in the local economy and so we all benefit in the long run. With just a couple of short shopping weeks left before Christmas, what better time could there be than this to show our support for these important local economic engines?
"The Scottish Government's Small Business Bonus has provided vital support to almost 100,000 small enterprises across the country – many businesses here in Perthshire have benefited - and the First Minister's announcement that this help will continue through the next parliamentary term if the SNP is re-elected will be widely welcomed in the business community."
Ms Nicola Martin, who owns and runs Small City, Big Personality added,
"The aim of Small Business Saturday is to support, inspire and promote small businesses and this is something our #PerthLoveFest campaign aims to do all year round.
"I am really pleased to be able to join Pete in helping to highlight them importance of independent retailers and small businesses and showing what they can bring to the mix in a city such as Perth.
"I'd love to see the people of Perth rekindle their passion for all of our wonderful independent retailers, restaurants, pubs, producers and events. If we all embraced this we would see the huge array of fantastic things available to buy right here in our small city."
---
Back to All Press Releases