WISHART CHAIRS LIVING WAGE EVENT FOR PERTHSHIRE BUSINESSES
Published date : 02 September, 2015
Pete Wishart MP, Member of Parliament for Perth and North Perthshire, chaired a seminar on Tuesday 1st September aimed at encouraging Perthshire businesses to become accredited Living Wage employers. Mr Wishart is currently conducting a campaign to make Perth Scotland's first living wage city.
The event, which was held in the Soutar Theatre at Perth's AK Bell Library was organised with co-operation from Perthshire Chamber of Commerce, the Scottish Living Wage Accreditation Initiative and Perthshire businesses who are already accredited Living Wage Employers.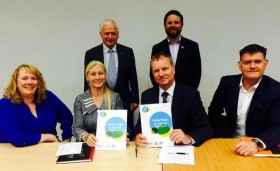 Commenting after the event, Mr Wishart said:
"I was delighted to chair the Living Wage seminar today and I think it went really well.
"I want to thank that everyone who was involved in making today's event such a success and for their part in the great progress that is being made to make Perth Scotland's first Living Wage City.
"Perth is already leading the way when it comes to the Living Wage with more accredited living wage employers than any other part of Scotland.
"Experience shows that the living wage increases productivity in the work place, reduces absenteeism and fosters a collective and collegiate environment in the work place. It is good for the work force and good for the local economy
"I will certainly be hosting further Living Wage events in the future and hope, for example, to arrange an opportunity to discuss ways of addressing the challenges in implementing the Living Wage for Third Sector Organisations."
---
Back to All Press Releases