WISHART RECEIVES UPDATE ON REFUGEES IN PERTHSHIRE
Published date : 09 January, 2016
Perth and North Perthshire MP, Pete Wishart has visited Perth and Kinross Association for Voluntary Service (PKAVS) Minority Communities Hub to receive an update on the work being done to welcome Syrian refugees to the Perthshire area.
The visit, which took place on Friday 8th January, was a unique opportunity for the local MP to hear about the work of the multiagency group who have been putting in place the support needed for the families fleeing war-torn Syria.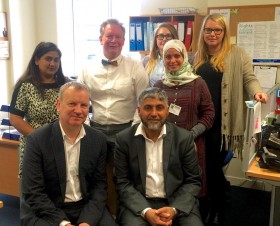 Speaking after the visit, Mr Wishart said:
"It was fantastic to find out about the type of support and resources that have been given to all of these very traumatised families that have arrived within the Perthshire area.
"The work that has been done to ensure that they're safely and securely accommodated into the community here is excellent.
"There is an overwhelming sense of support for the families to ensure that they've got everything that they require, such as language services, support from education and the NHS."
---
Back to All Press Releases