WISHART VISITS WEEPING WINDOWS INSTALLATION
Published date : 15 August, 2016
Perth and North Perthshire MP, Pete Wishart, has visited The Black Watch Castle & Museum to congratulate organisers on the record numbers of visitors the ongoing 'Poppies: Weeping Window' installation has attracted to The Fair City.
The visit, which took place on Monday 15th August, was aptly after one of the busiest days for the display – having attracted over 2,000 visitors on Sunday 14th August alone.
The installation, which was designed by Tom Piper and Paul Cummins, will remain at Balhousie Castle until 25th September 2016. Organisers have been staggered at the number of visitors it has attracted from all over the World.
Speaking after the visit, Mr Wishart said:
"It was a great opportunity for me to visit the Weeping Window installation at Balhousie Castle. Thousands of visitors have been coming to Perth to see this breath-taking installation and I was personally very moved by its significance.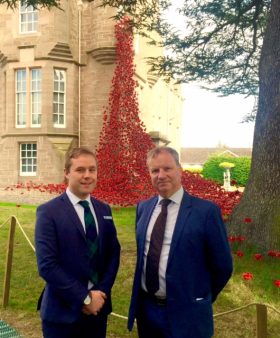 Alastair MacFarlane, Operations Manager at The Black Watch Castle and Museum and Pete Wishart MP.[/caption]
"Even during my short visit, there were groups from all across the UK and a group from Canada, proving that this has been a real draw for tourists. I would like to extend my thanks to Alastair MacFarlane and the team at The Black Watch Museum, including the many 'Poppy Volunteers', for making my visit extremely memorable.
"I would urge those from Perthshire and beyond to make the trip to Perth to see this installation before it moves on to its next location."
---
Back to All Press Releases