PETE WISHART MP THANKS LOCAL POSTMEN AND WOMEN FOR THEIR HARD WORK THROUGHOUT THE PANDEMIC ON A PRE-CHRISTMAS VISIT 
Published date : 10 December, 2021
News Release – 10th December 2021 – For Immediate Release
PETE WISHART MP THANKS LOCAL POSTMEN AND WOMEN FOR THEIR HARD WORK THROUGHOUT THE PANDEMIC ON A PRE-CHRISTMAS VISIT
Pete Wishart, MP for Perth and North Perthshire, passed on Christmas greetings to postmen and women at Perth Sorting Office
Christmas is Royal Mail's busiest time of the year and Mr Wishart saw the hard work and dedication of postmen and women to sort and deliver festive parcels, cards and letters

Mr Wishart also took the opportunity to thank postmen and women for all their hard work throughout the pandemic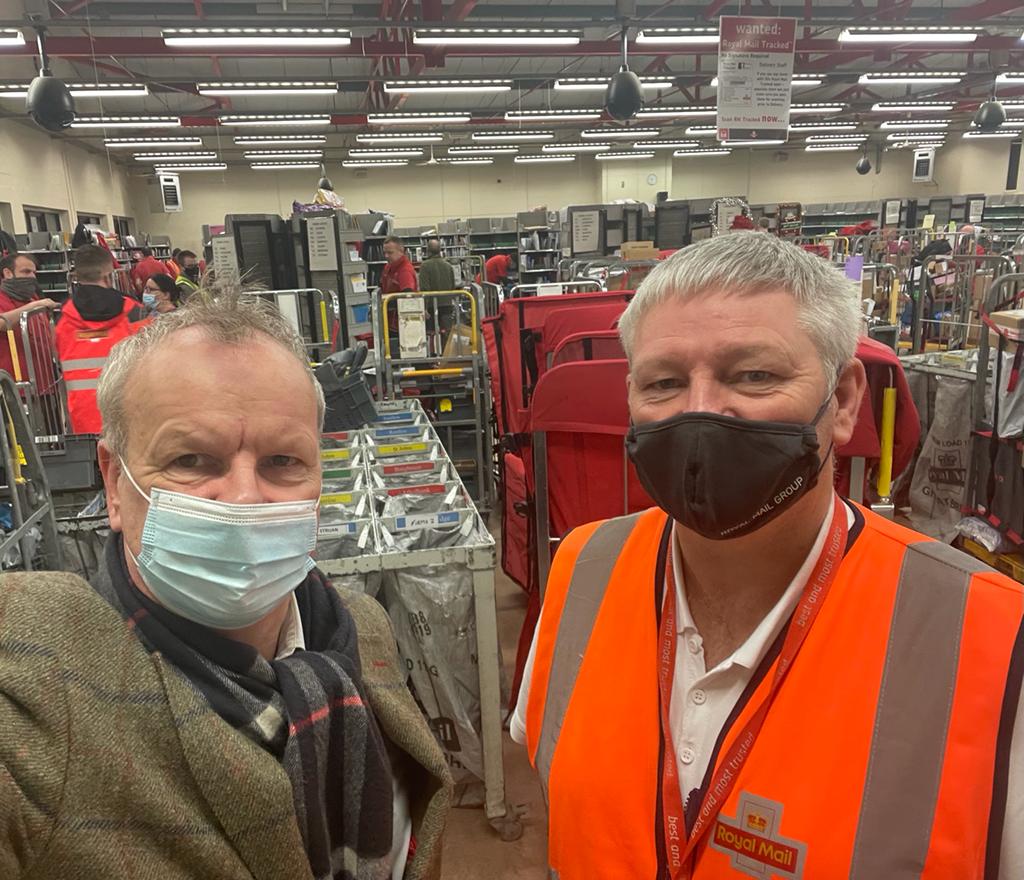 Pete Wishart MP visited Perth Sorting Office to pass on Season's Greetings to the Royal Mail team who are working hard to deliver cards and gifts in time for Christmas. It was also an opportunity to thank postal workers for all their hard working during the pandemic.
Mr Wishart was shown around the delivery office by the Delivery Office Manager and was introduced to postmen and women as they gear up for Christmas. He heard how the team have worked tirelessly over the past eighteen months to keep communities connected and businesses trading.
Mr Wishart said: "As key workers, Royal Mail staff have been working flat out with little respite throughout the pandemic and it is getting even busier in the run up to Christmas.
"It was great to meet the team here at Perth Sorting Office and to thank them in person for their extraordinary efforts. As we approach the Christmas season, they will be delivering Christmas parcels and cards, spreading a bit of cheer after what has been a very challenging year for many. I hope that we can all do our bit by posting our cards and gifts early.
"On behalf of all my constituents in Perth and North Perthshire, thank you for everything you do!"
Michael Hogg, Senior Public Affairs Manager at Royal Mail, said: "We are proud to have played our part throughout the pandemic, keeping the community connected. There's no doubt it has been challenging, but we remain very grateful to our customers for their support and for keeping us so busy! Now we will be working even harder to deliver Christmas parcels and cards, so it was a real boost to have a visit from Pete Wishart to see the operation and to support the team."
ENDS
---
Back to All Press Releases